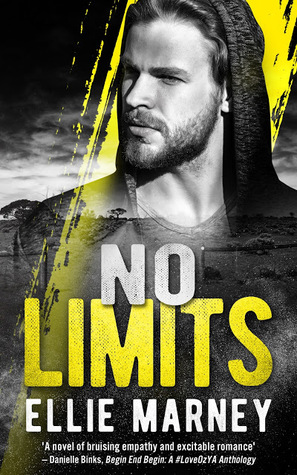 So good!
Once again, Ellie Marney doesn't disappoint me! I was already convinced with the Every series, so No Limits is just a confirmation that she is a « to read » author for me!
I really loved this book!
The story takes place in an hospital where a young man must have surgery because of a gunshot wound. Harris is the injured one and Amie the nurse trainee.
They know each others from college.
We follow Harris Derwent during his recovery, we learn more about him, his past and his present, and the threat of his father.
Amita Blunt alias Amie is a young woman full of life, but after her mother's death, she takes care of her family (especially her dad, the sergent police) more than her life.
With Harris, they will learn to know who they are and what they want to do with their lives.
Harris discovers that his father has a lot of debts and, even if it is not Harris fault, he feels responsible and wants to help him. So when Snowie, a mate from Ouyen , offers him a job, Harris hesitates… because Snowie deals meth.
One day, he decides to tell the truth to Amie's dad and it's the beggining of this adventure. Amie's dad asks Harris to be a police informant and to help arresting the big boss. But Amie offers to be his contact and uses the medical excuse of Harris's leg to do it.
After that, it's a mood swings reading, we are scared, we swoon, we freak out, we laugh and we can't put the book down!
This book broachs a lot a themes, like abuse, addiction, hospital environnement, photography, drug universe but also the culture differencies and the questioning about life.
I loved the other characters too like Amie's nana or Reggie!
No limits proves that Ellie Marney can write about everything, it will be awesome!
Thank you!

So good !
À aucun moment je n'ai douté du talent d'Ellie Marney !
J'étais déjà convainvue avec sa série Every, et No Limits ne fait que confirmer que c'est une auteure sûre pour moi.
J'ai tellement aimé ! À partir d'un moment, il était difficile de lâcher le livre, même pour dormir !
Tout commence à l'hôpital, un jeune homme a une blessure par balle et doit se faire opérer. Voici donc notre rencontre. Harris, le blessé, et Amie, l'infirmière interne. Elle le reconnaît, car ils étaient ensemble au collège.
On suit Harris Derwent pendant sa convalescence, on en apprend plus sur lui, son passé et son présent plein de menaces à cause de son père. Et on les voit se rapprocher, avoir une certaine complicité. Même si la romance n'est pas au premier plan, on a une montée en pression de folie et on swoon !
Amita Blunt alias Amie est une jeune femme pleine de vie, mais qui fait passer un peu son bonheur au second plan pour s'occuper de sa famille. Après la mort de sa mère, elle reste avec son père, sergent de police, et s'occupe de lui.
Son lien avec Harris va l'amener à s'interroger sur sa vie et sur elle. Et elle va avoir le même effet sur lui.
Harris apprend que son père a accumulé énormément de dettes, il se sent responsable, même si son père ne le mérite pas du tout. Alors quand Snowie, une connaissance de leur village d'Ouyen, lui propose un job, il dit qu'il va y réfléchir, car Snowie deal des méthamphétamines.
Un jour, il en parle au père d'Amie, qui lui propose un truc fou… faire de lui une sorte d'agent sous couverture afin d'attraper le big boss du traffic. Sauf qu'Amie propose d'être son contact et d'utiliser l'excuse des soins médicaux.
S'ensuit une lecture en mood swings où on a peur pour Harris, on swoon, on rit, on panique un peu et surtout on ne lâche pas le livre.
Beaucoup de thèmes sont également abordés dans le livre, comme la maltraitance, l'addiction, le milieu hospitalier, la photographie, l'univers des dealers de drogue et leur cruauté mais aussi les différences de culture, l'interrogation sur la vie et quoi en faire.
J'ai également beaucoup aimé les personnages secondaires comme la grand mère d'Amie et Reggie.
Encore une fois, Ellie Marney ne déçoit pas et réserve encore une bonne surprise !
Merci !
No Limits by Ellie Marney
2017